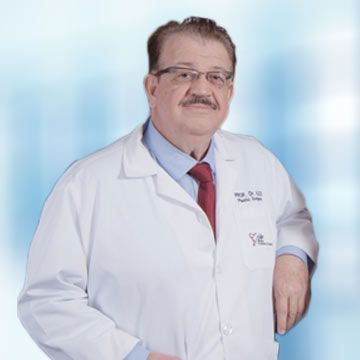 About Dr Alexandre J. Dionyssopoulos
Specialist Plastic Surgeon
Dr Alexandre, or Dr Alex, as patients prefer calling him, is a proud member of the Dubai Cosmetic Surgery team as a Specialist plastic surgeon.Prior to joining DCS, Dr Alex was a Consultant Plastic Surgeon and Associate Professor in the Faculty of Medicine at Aristotle University of Thessaloniki and University General Hospital "Papageorgiou" Thessaloniki in Greece.
His passion for aesthetic surgery has led him to hold high profile positions in the fields of plastic surgery and reconstruction surgery including Deputy Director of the Department of Plastic Surgery , teaching Member of the French College of Plastic Reconstructive and Aesthetic Surgery, Consultant Plastic Surgeon at the State Hospital for Dermatologic Diseases of Thessaloniki, Plastic Surgeon in Charge of Oncologic Skin Cancer, Plastic and Reconstructive Surgery Unit and Consultant Plastic Surgeon in E.N.T. and Head and Neck Surgery Department at the University Hospital Thessaloniki.
Born in Greece, Dr Alex earned his medical degree at Aristotle University of Thessaloniki, THESSALONIKI, Greece in 1980. In 1985, he went on to earn a PHD in Plastic Surgery at the same university. He also did his specialty in plastic surgery in Switzerland and France and Fellowship in Canada.
His other qualifications include a Postgraduate Degree in Experimental Surgery and Microsurgery from the University of Paris VII, Degree in Human Biology from the University of Rennes, France, Postgraduate Degree in Plastic Surgery and Microsurgery from the University of Nancy I, France, a Postgraduate Degree in Legal Repair of Personal injury from the University of Paris V, France and a General Medical Council (GMC) license to practise medicine in the United Kingdom among others.
Other than his stunning medical profession to date, Dr Alex has also had a run in teaching medicine. Since 1990, he served at the Faculty of Medicine at the Aristotle University of Thessaloniki (Greece) as Lecturer, Assistant Professor, Associate Professor and now a full Professor of Plastic Surgery.  Consecutively, he has also been invited as a professor at the School of Medicine at the University of Thessaly.
So far Dr Alex has been invited as speaker in national and international congresses. He has also been an esteemed Editorial Board Member of the International Video-Journal of Plastic and Aesthetic Surgery as well as the Modern Plastic Surgery International Open Access Journal. In addition his scientific work includes more than 350 publications, lectures, communications, citations and chapters in international books.
Dr Alex's work is never complete without giving back to society. Since 1999, he has participated, as Consultant Plastic Surgeon, in the annual Medical Missions of Facial Plastic Surgery, in Comoro Islands (Mayotte). On these missions, he and his colleagues have operated on a considerable number of children with facial congenital malformations (cleft lip and palate) as well as burns and skin cancers of head and neck.
When he is not busy with aesthetic surgery, Dr Alex loves offshore sailing, scuba diving, and being his own Aircraft Pilot (PPL).
Dr Alex specialises in:
General Plastic and Reconstructive Surgery
Burns [emergency (on-call) and reconstruction] – Total Burn Care
Wound Healing (Artificial dermis, cultured epidermis cells) – Trauma
Skin Cancer Reconstructive Plastic Surgery
Hand Surgery (emergency and on-call experience, chronic diseases)
Breast Reconstruction
Diabetic Foot Reconstructive Plastic Surgery
Cleft lip and Palate plastic surgery
Reconstructive Microsurgery
Aesthetic Plastic Surgery: general aesthetic surgery – all fields including Face, Breast Aesthetic Surgery, Body Contouring, Liposuction and Fat graft procedures.
Professional and Scientific Societies
Among the Medical and Scientific societies that Dr Alex is part of include:
International Society of Plastic, Reconstructive and Aesthetic Surgery
French Society of Plastic, Reconstructive and Aesthetic Surgery
French Association of Maxillo-facial Surgeons
European Burn Association
Balkan Society of Plastic and Reconstructive Surgery
Mediterranean Council for Burns and Fire Disasters (MBC)
European Workshop of Advanced Plastic Surgery (EWAPS)
International Society for Burn Injuries
Hellenic Society of Plastic, Reconstructive and Aesthetic Surgery (General Secretary 1994-96)
Hellenic Surgical Society
Hellenic Society for the Study of Melanoma
Plastic Surgeons' Association of Northern Greece (General Secretary 2006 – 08, President 2008 – 14) INTERPLAST – HELLAS [Founder Member – 1993 – (Vice-President 1994-98)]
Group for the Advancement of Microsurgery (G.A.M.)
French Society for Burn Injuries (SFETB)